Keroppi, the cheerful frog with wide eyes and an ever-present smile, has been a beloved character in the Sanrio universe for decades. This article dives into this endearing amphibian's origins, characteristics, and popularity.

Origin and Evolution
Emerging from the innovative minds at Sanrio, Keroppi made his first appearance in 1987. By June 1988, products featuring this delightful frog were available for sale, showcasing Sanrio's confidence in the character's appeal. Their prediction was right on target. By 1990, Keroppi had won the hearts of many, even securing the top spot in a Sanrio popularity vote.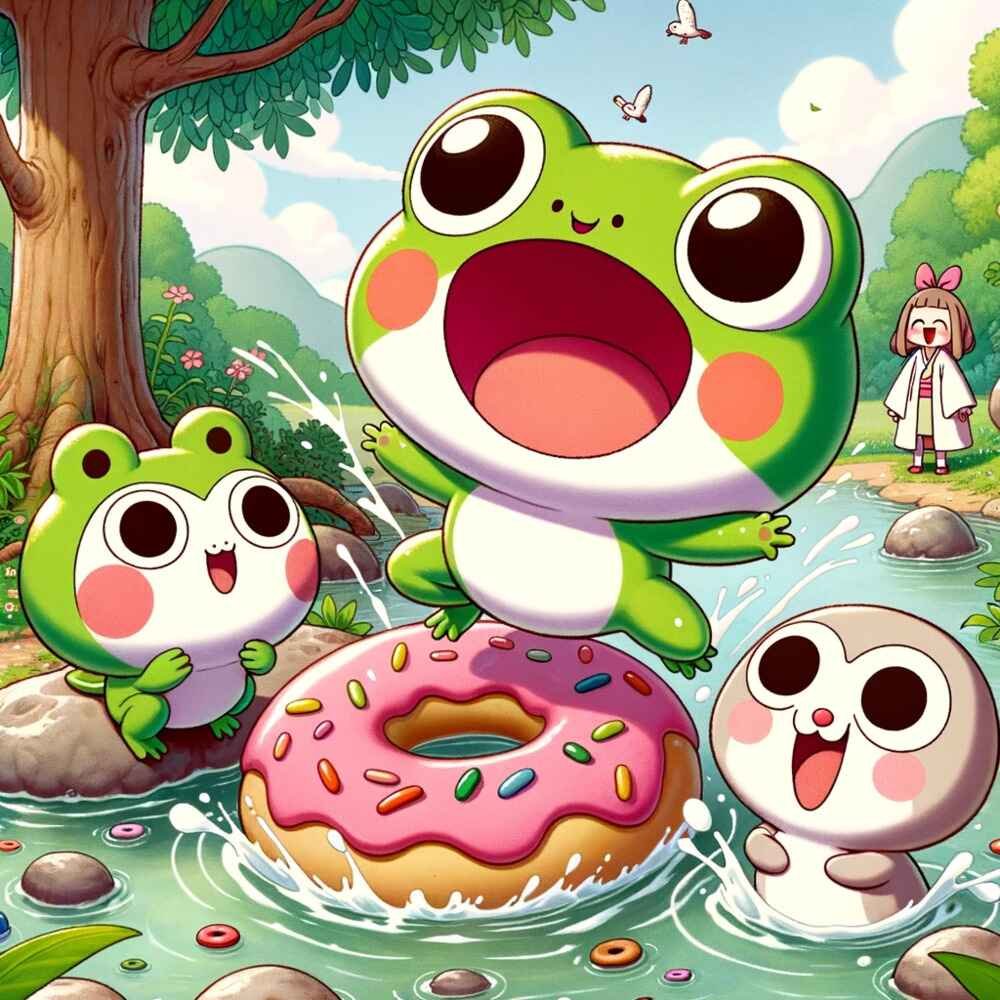 Life at Doughnut Pond
Keroppi's life is as vibrant as his character. Residing in the picturesque Doughnut Pond, he shares his abode with his siblings, Koroppi and Picky. Each family member has a role that adds charm to their existence. While his father does the role of a doctor, ensuring the health and well-being of their community, his mother takes pride in running a quaint restaurant. It's no secret that Keroppi has a particular fondness for his mother's rice dishes.
A Frog with Many Talents
Not one to be confined to the pond, Keroppi is an adventurer at heart. He has an insatiable curiosity that propels him into various escapades. Besides being an explorer, Keroppi is also blessed with the talents of swimming and singing. These skills make him stand out and testify to his multifaceted personality.
Relationships and Friendships
In the realm of relationships, Keroppi is no less fortunate. He shares a sweet bond with Keroleen, his girlfriend, adding a touch of romance to his life. Their camaraderie reflects the importance of relationships in the Sanrio universe, making them relatable to fans worldwide.
Comparative Popularity
While Keroppi's charm is undeniable when juxtaposed with Sanrio's vast array of characters, he's still on his journey to the pinnacle of popularity. Icons like Hello Kitty and Gudetama have set high benchmarks. Yet, Keroppi, with his unique blend of innocence and adventure, continues to grow in popularity, proving that every character has its unique place and fanbase.
In Conclusion
Keroppi, with his infectious enthusiasm and zest for life, serves as a reminder to embrace every day with joy and curiosity. His journey from his introduction in 1987 to now is a testament to Sanrio's commitment to creating characters that resonate with audiences. While he might not be at the zenith of fame, Keroppi's legacy is consistent growth, engagement, and timeless appeal. Whether you're a long-time fan or new to Sanrio, Keroppi's adventures will surely make you smile.
Also, Read DIY Slideshow Ideas as a Perfect Gift.
FAQs
Who is Keroppi?
Keroppi is a delightful frog character created by the Japanese company Sanrio in 1987. Recognized by his broad eyes and ever-smiling face, he symbolizes joy and adventure in the Sanrio universe.
When was Keroppi introduced to the world?
Keroppi debuted in 1987, and products featuring this charming amphibian hit the shelves in June 1988.
Has Keroppi received any accolades or recognition?
Indeed! Keroppi's appeal was swiftly recognized, as he clinched the top spot in a Sanrio popularity vote in 1990.
Where does Keroppi reside?
Keroppi lives in the picturesque Doughnut Pond alongside his siblings, Koroppi and Picky.
What are some of Keroppi's notable characteristics?
Beyond his infectious charm, Keroppi is an adventurer with talents in swimming and singing. He has a penchant for exploration and a soft spot for his mother's rice dishes.
Can you tell us about Keroppi's family?
Certainly! Keroppi's father is a trusted doctor in their community, while his mother runs a beloved small restaurant. He also has siblings, Koroppi and Picky, with whom he shares many adventures.
Is there a special someone in Keroppi's life?
Yes, Keroppi's heart belongs to Keroleen, his adorable girlfriend. Their relationship underscores the importance of bonds and camaraderie in the Sanrio world.
How does Keroppi fare in popularity compared to other Sanrio characters?
While Keroppi is dearly loved, he has yet to reach the iconic status of some Sanrio characters, such as Hello Kitty or Gudetama. However, his unique blend of innocence and spirit ensures he has a dedicated fanbase.
What makes Keroppi stand out in the Sanrio universe?
Keroppi's blend of adventure-seeking nature, heartwarming relationships, and diverse talents like swimming and singing make him a relatable and cherished figure in the vast Sanrio universe.
Where can I learn more about Keroppi's adventures?
Sanrio often releases stories, products, and media related to Keroppi. You can explore their official website or affiliated stores to delve deeper into the world of this endearing frog.