The Beginning of Big Nate
"Big Nate" isn't just another comic strip; it's a cultural phenomenon. Debuting in the early '90s, this captivating piece of art centers around Nate Wright, the rebellious yet talented sixth-grader. Lincoln Peirce, its creator, has artfully showcased Nate's life for over three decades, making readers of various ages chuckle and reminisce about their school days.

Meet Nate Wright: The Spirited Protagonist
The magnetic pull of "Big Nate" isn't just its wit and its lead, Nate Wright. An embodiment of childhood dreams and mischief, Nate is an eleven-year-old with a penchant for rebellion and an impressive array of talents. Whether cartooning, drumming, or pulling off the ultimate prank on "Prank Day," Nate does it with enthusiasm.
Yet, it's not all fun and games. Most of us can relate to his navigation through the intricate social dynamics of middle school. From the butterflies he feels around his crush, Jenny, to his occasional skirmishes with his nemesis, Mrs. Godfrey, Nate's life is a whirlwind of emotions and adventures.
Relatable Relationships: The Essence of the Comic
A significant part of what makes "Big Nate" so engaging is the dynamics between its characters. There's the camaraderie with his loyal pals, Francis, Teddy, and Dee Dee. And then there's the rivalry with the ever-annoying Gina. Not to forget the comic also sheds light on Nate's family life with his father, Martin, and his sibling tales with sister Ellen.
Big Nate's Evolution Over the Years
Interestingly, "Big Nate" didn't start solely as a tale about school life. Initially, Peirce leaned towards domestic humor, shedding light on the intricacies of Nate's life with his single dad. But, as the creator's experience as a teacher merged with his art, the comic shifted to the hilarious and sometimes poignant moments of school life, something many find relatable and genuine.
Beyond the Comic Pages
The comic's undeniable charm didn't remain confined to the strips. Its success branched into a series of children's books and even a computer-animated TV series. Narrating the escapades of Nate and his friends in the sixth grade, the series has been a hit among the younger audience.
Additionally, fans of the strip have had the pleasure of diving deep into Nate's world through eight spin-off novels published between 2010 and 2016.
In Conclusion
For nearly 30 years, "Big Nate" has been a comforting and humorous reflection of our younger days. Its genuine portrayal of middle school, friendships, and family dynamics ensures its legacy will continue. Lincoln Peirce's masterpiece is a gentle reminder that amidst life's trials and triumphs, a good laugh can constantly improve things.
Also, Read Who Is Keroppi in the Sanrio Universe?
FAQs
What is "Big Nate"?
"Big Nate" is a beloved American comic strip by Lincoln Peirce. It chronicles the life of Nate Wright, an eleven-year-old sixth-grader, his escapades, family life, and school experiences.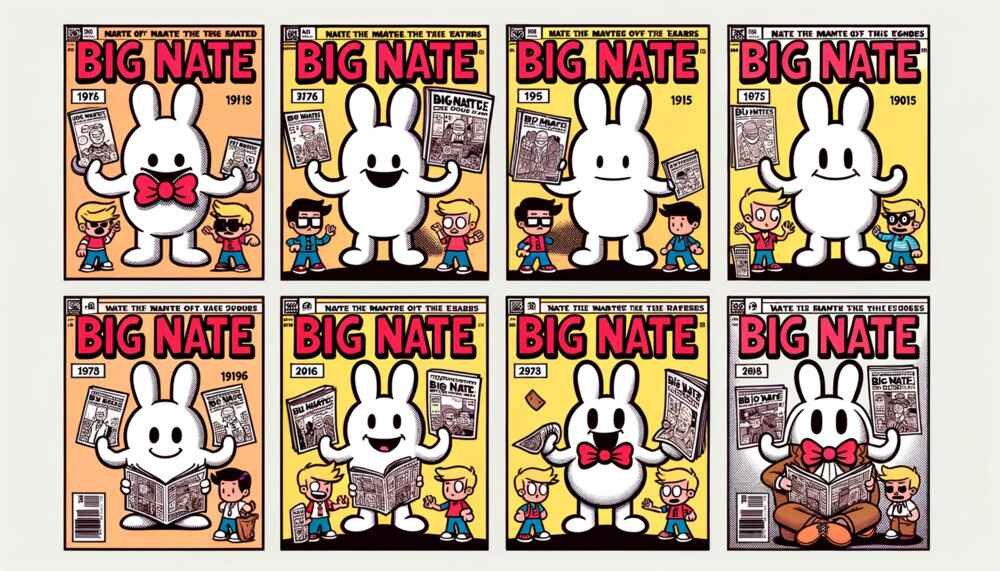 When did "Big Nate" first appear?
The comic strip began syndication on January 7, 1991.
Who are the main characters in "Big Nate"?
The main character is Nate Wright. Other prominent characters include:
His father, Martin.
Sister, Ellen.
Crush, Jenny.
Best friends Francis, Teddy, and Dee Dee.
His teacher nemesis, Mrs. Godfrey.
His school rival, Gina.
What are some of Nate's hobbies and talents?
Nate has a knack for cartooning, drumming, and playing chess. He's also quite the prankster, particularly on special occasions like "Prank Day" at his school.
Has "Big Nate" expanded beyond the comic strip format?
Yes, the popularity of "Big Nate" led to a series of children's books, a computer-animated TV series, and eight spin-off novels published from 2010 to 2016.
Who developed the "Big Nate" TV series?
The TV series was developed by Mitch Watson, drawing inspiration from both the comic strip and the book series.
Did the focus of "Big Nate" always revolve around school humor?
According to Lincoln Peirce, the comic initially leaned more towards "domestic humor," focusing on Nate's single dad. However, over time, school humor became a more dominant theme, reflecting Peirce's experiences as a teacher.
Why has "Big Nate" remained popular for so many years?
The enduring appeal of "Big Nate" stems from its humorous yet insightful portrayal of middle school life, relatable characters, and the amusing challenges a young boy faces with friends and family.
Are there any collections available for "Big Nate" comic strips?
Yes, "Big Nate" comic strips have been compiled into various collections, allowing fans to relive Nate's memorable moments.
Where can the latest "Big Nate" strips or related content be found?
"Big Nate" strips are syndicated in various newspapers nationwide, and its books, novels, and other related content are available at major bookstores and online retailers.