Introduction
A blend of Californian spirit, surfer style, and luxurious comfort, UGG slides have become a coveted footwear choice for many. They embody fashion and function, perfect for an easy-going day or a stylish evening out. In this article, let's dive deep into what makes UGG slides a favorite among many.

A Peek into Popular Models
UGG Fluff Yeah Slide: Among the top-rated, it captures hearts with its varied color options. Suitable for women and girls, this model offers affordable prices ranging from $44.99 to $100.00.
Women's Spaceslider Tech Slide & Goldenstar Cross Slide: Priced at a premium, both these models, at $150.00, showcase the brand's dedication to merging style with innovative design elements.
Craftsmanship & Materials
UGG's reputation for utilizing quality materials stands firm with their slides. Imagine the soft sheepskin insoles caressing your feet or the durable embrace of rich leather and premium wool. With a sheepskin upper and the brand's signature overlock stitching, there's no compromise on luxury or durability.
Design Dynamics
UGG slides are a tribute to the casual California lifestyle. Their designs are infused with versatility, making them apt for various occasions. The airy, flexible outsoles are a testament to the brand's dedication to ensuring that every step you take is comfortable.
Journey of UGG
The genesis of UGG dates back to 1978. Surfer Brian Smith ventured into the world of sheepskin boots in Southern California. Little did he know that his passion project would evolve into a global footwear sensation, extending its range to the stylish slides we adore today.
Where to Get Your Pair
From the official UGG website to trusted retailers like Foot Locker and Amazon, there are myriad platforms where you can add these slides to your collection. Watch for sales; you might grab them for a steal!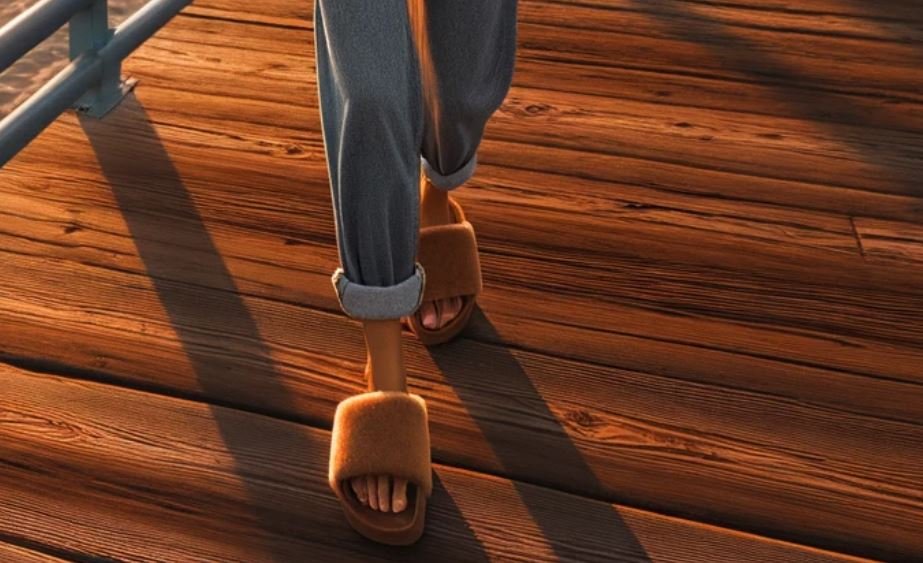 Investment Worth Every Penny
While the price range can oscillate between $45 to $150 based on the model, every penny spent on UGG slides promises unmatched comfort and a dash of style to your ensemble.
Conclusion
UGG slides are not just footwear; they are an experience—an experience of luxury, style, and comfort. Whether you're a surfer, a fashionista, or someone who values comfort, these slides are a worthy addition to your footwear repertoire. Dive into the world of UGG and let your feet relish the journey of unparalleled comfort.
Also, Read 5 Dos and Don'ts for Choosing a Wedding Guest Dress.
FAQs
What are UGG slides?
UGG slides are a line of footwear designed to blend comfort, style, and casual wear inspired by the California lifestyle. They are suitable for men, women, and children in various models and colors.
Which are some of the popular models of UGG slides?
Among the favorite models are the "UGG Fluff Yeah Slide," available for women and girls, and the "Women's Spaceslider Tech Slide" and "Women's Goldenstar Cross Slide," both priced at a premium.
What materials are UGG slides made of?
UGG is renowned for its luxury materials. The slides often feature soft sheepskin insoles, rich leathers, premium wool, sheepskin uppers, and a suede heel counter.
How do the design and features of UGG slides stand out?
UGG slides embody the casual California vibe. Their designs ensure versatility for various occasions. The airy, flexible outsoles add comfort, making every step a joy.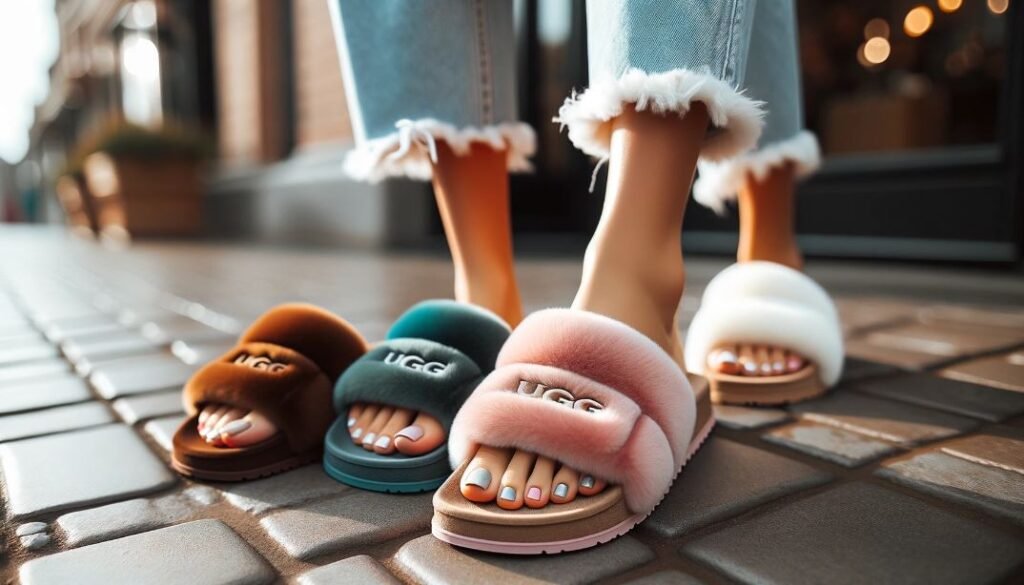 What's the origin of the UGG brand?
UGG began its journey in 1978 with surfer Brian Smith in Southern California. Focused initially on sheepskin boots, the brand has since expanded its range to include the popular slides.
Where can I purchase UGG slides?
UGG slides are available on the official UGG website, Foot Locker, Amazon, and other footwear retailers. It's always a good idea to check for ongoing sales or offers.
What's the typical price range for UGG slides?
Depending on the model and where you're purchasing from, UGG slides can cost anywhere between $45 to $150 or more.
Are UGG slides suitable for both casual and formal occasions?
While UGG slides are designed primarily for casual wear, their stylish design and luxurious materials make them versatile enough for certain formal occasions, especially during warmer seasons.